The Ultimate Hardwood Cheese Press! - $169.99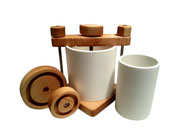 Newly released on the market! This Hardwood Cheese Press was made for home cheese makers, designed and manufactured right here in the USA! Made from a beautiful grained hard maple, with a lighter basic color with various shades of darker marbling.
Perfect to make all types of hard and semi-hard cheeses.
Ergonomically designed handles and followers to reduce the stress to your hands and fingers.
Comes with 2 hoops, now larger and taller than other presses, to prepare a 1 lb to 5 lb cheese!
Designed to accept the hoops in perfect position every time!
Hoops are made of food grade heavy duty water pipe. Professional cheese makers prefer this type of hoop over the metal hoop type, as it won't cause too fast of cooling the cheese during pressing time.
Made with all food grade materials, will last a very long time, sturdy hardwood with stainless steel fasteners that are made in the USA!
Easy to use; small enough to just place it into baking pan to allow for draining... therefore no mess, no fuss...
Finished wood with all natural 100% Tung Oil, no odor, no petro-chemicals, FDA approved for food contact... makes the wood water proof, will not turn rancid. We use real wood, not plastic.. latest research confirms that wood inhibits bacterial growth, which is not the case for plastics such as melamine. Now you know why everyone is going back to butcher block cutting boards!
No need for gauge... as you just turn to tighten as whey is released. So Simple! Easy to Clean! Just can't say enough about this press... it's the best!
With proper care, this cheese press should last a lifetime! (soap and water, no dishwasher!)
Dimensions: Base: 7" x 7", Unit Height 11", Large Hoop: 7" tall x 6" wide, Small Hoop: 7" tall x 4" wide
Please note: Tung oil is a nut oil and those with nut allergies may be sensitive. Please contact us if you want our cheese press but need one without Tung Oil and are willing to have one with a finish used for making butcher blocks.